Agile Project Methodology
How many projects deliver to time, cost and quality?
How many methodologies have attempted to secure certainty of outcome and failed, or worse plagued the business with onerous Change?
Is there a better way?
Agile is an implementation approach that recognises compromise is likely, benefits can be secured without needing everything and being informed and providing choice is the ultimate enabler.
What sort of projects suit Agile?
clear business mandate - unambiguous business perspectives
business prepared to actively participate - provide a resource(s)
capable implementation team - team is fully manned from commencement to completion
fixed budgets - Change not welcomed and unlikely to be successful without business assurances on a return.
The Agile methodology provides everyone involved in the implementation of software with many advantages, of most note:
the replacement of contract negotiation with business outcome focused collaboration
the capacity to commence return on investment early
the empowering of all;

business representative(s) to direct the spend to maximise opportunity for return on investment or redirect project focus to changing business challenges
project managers to focus on what is being achieved and what can be achieved based on measurable outcomes instead of compliance monitoring and management
architects, developers and testers to work directly and concurrently on specifying, designing and implementing software modules with a broad understanding on why and how the modules will fit.
Whilst Agile is technology independent it must have committed business sponsorship.  The sponsor must be willing to take an active part in the project, by providing detailed input into requirement specifications and decisions, and particularly in directing the project's efforts (spend), i.e. determining the business priority of the functions to be built.
In addition, other traits that make a project suitable for an Agile approach are:
an early or phased solution may be required
limited funding may only be available and must be used effectively
greater transparency of the project and decision making may be required
a high level of confidence of delivery may be needed.
The Impact of Agile:
Agile's greatest impact is how a business views its investment programs and thus determines what projects are initiated.  Agile projects offer businesses the ability to shorten the return on investment cycle, whilst reducing the risks of investment.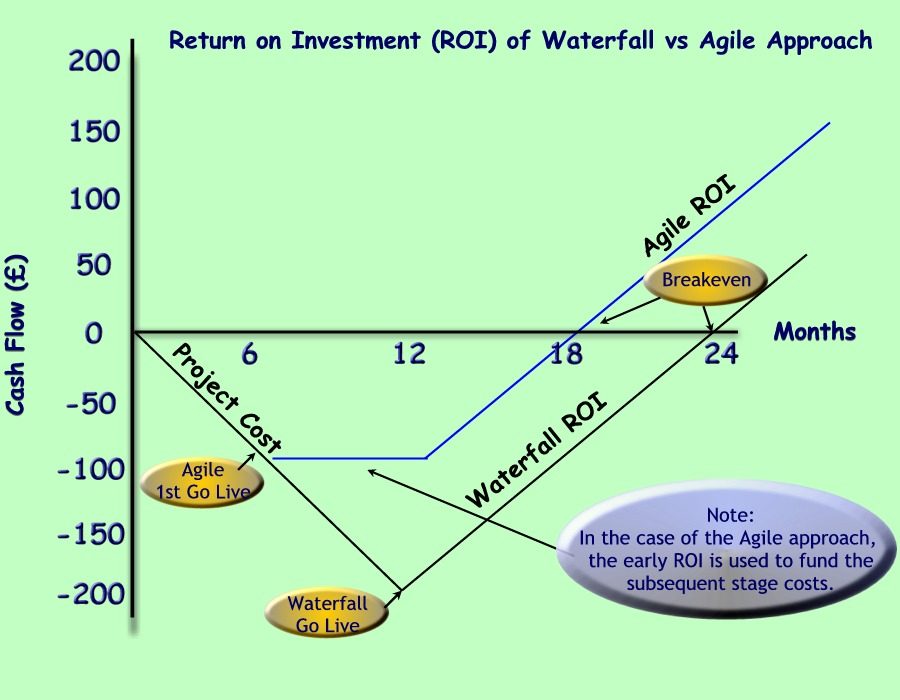 The diagram above is a simple representation of the impace.  A traditional project might have a breakeven period of 24 months and a requirement for the business to make a full project investment.  This is high risk as all the investment is needed before return on investment can begin and rate of return is not confirmed until expenditure of the full investment has happened.  If the project is delayed or business circumstances change the business risks losing all the investment made.
An Agile project offers the ability to commence return on investment sooner and base further investment decisions on the impact the early deliverables are making.